i love designing. it is something i want to do for the rest of my life. for my final piece in my silk screening class, i designed something of my own that will be displayed in a gallery at a local museum. i can hardly wait, i'm so excited for the gallery to be up! :D
a lot of hard work, blood, sweat, and tears went into my final piece for my class and the gallery. i wanted to do something all my own, and by god, i did. i am pretty proud.
as for my piece, i wanted something that was punky, with a touch of chic and modern added. the vest was tailored precisely, i added a lot of heavy zippers to give the punky look to it, and added a couple studded belts, and the leggings with her converse. the skirt was particularly tough to work on, lots of seams an an interesting silhouette. i was pretty inspired by alexander mcqueen's spring 2010's skirts for my skirt, and i was listening to a lot of the dead weather when i came up with it. so there had to be sooommmee kind of rough aspect added to it. :)
a photographer was hired to come and shoot the designs.
my LOVELY mother did my model's hair and makeup. this was my very first time designing something for someone/something besides myself, i've never had a model or a photoshoot before ever, so this was pretty big for me. i couldn't possibly imagine doing this for 24 or more girls. :O that's just beyond me. though someday, i hope to achieve that. my model's name is kyre, she has beautiful skin and is just a gorgeous girl. i was nervous about her modeling, because i didn't just want some pretty face going up there and not know what to do in front of the camera, but as soon as the photographer was behind the camera, kyre got up there and she knew exactly what she was doing. i found out shes had modelling experience! :D yes!
that girl *finger snaps in air very christian siriano like* WORKED it. i was so happy. i was the director, however, and that was pretty difficult for me considering i am not a model at ALL. i have a little photography experience, though i have more experience with candids than posing. but thankfully since my model had prior experience, she knew exactly what i was going for as i yelled out random words.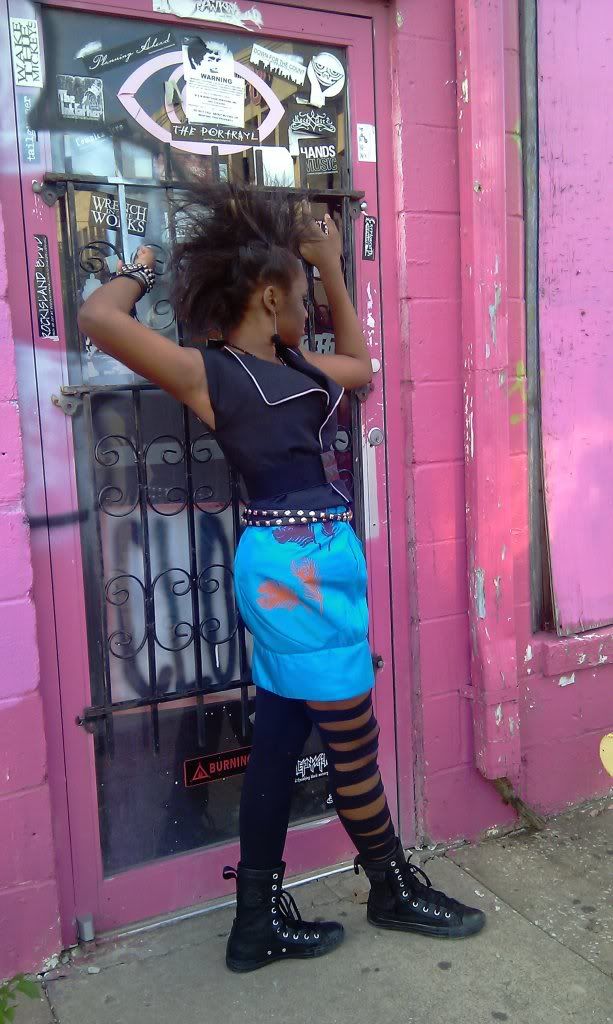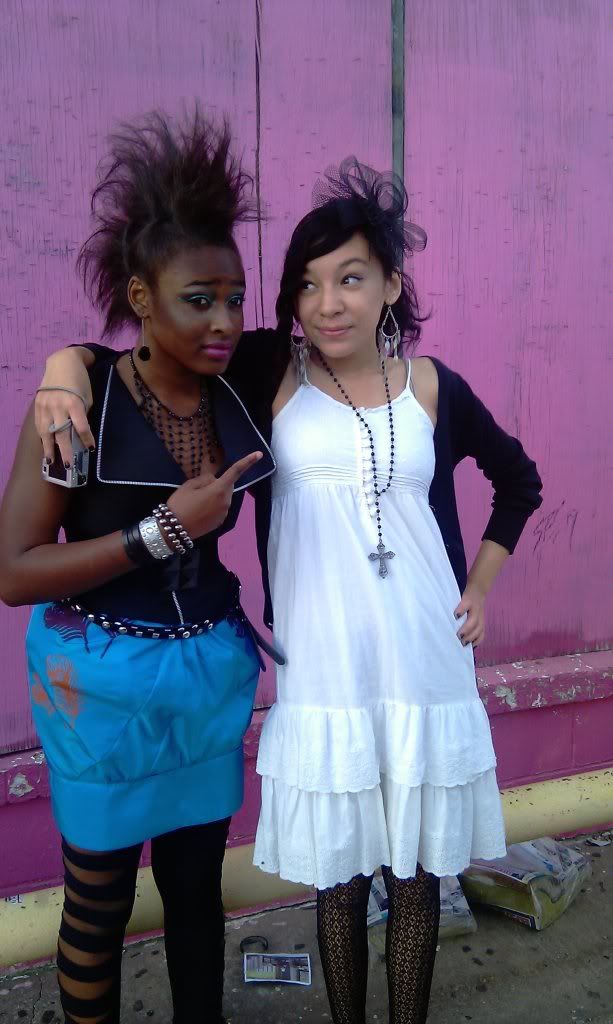 lots of love. right here. love. lots of it. right here.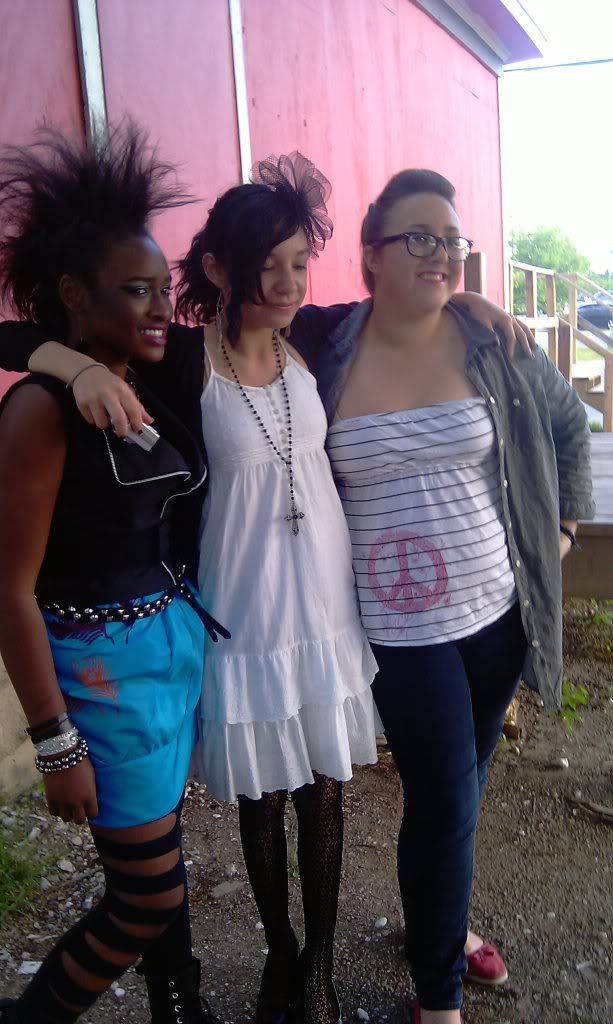 yes, of
course
my eyes are closed, are you kidding?! the camera
loves
me.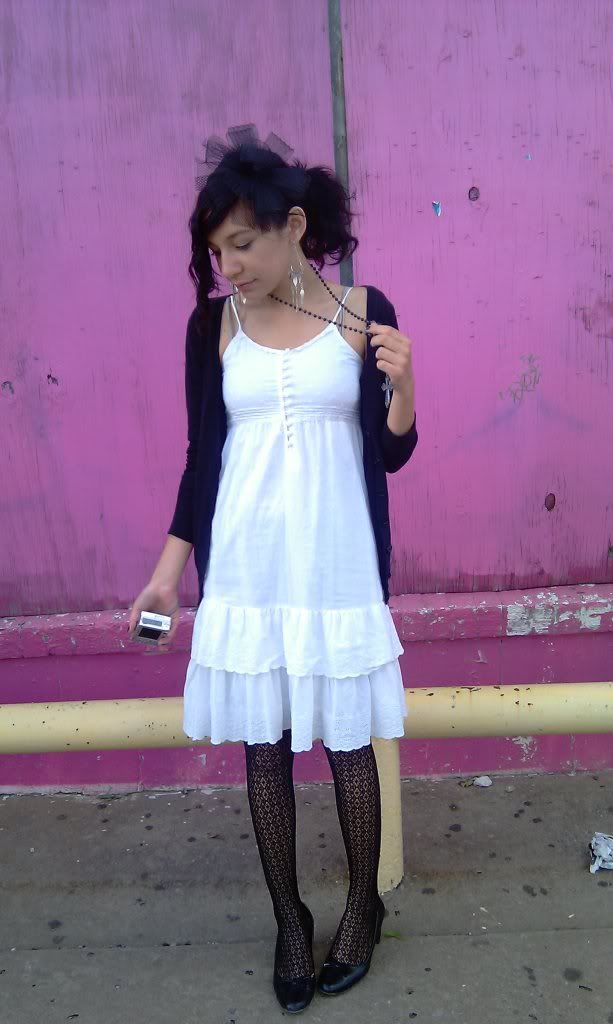 dress - gap kids
tights - forever 21, i think
black cardigan, a.k.a. my one and only love that i will never give up - i'm pretty sure forever 21
black heels - don't even ask, i don't know.
headband, necklace - forever 21
i have a camera in my hand, btw.


note that these are just snapshots taken from my mom's gigantic screen phone. whenever the photos are ready, i will definitely be posting them, and when i get my camera usb, i'll post the other in-the-process photos as well. :)